Why risk spending thousands of dollars on hearing aids that may not be programmed to the best of its ability?
Below, in Figure 1, is an example of real-ear measurement showing a poorly fit hearing aid; in fact, the fitting shown is typically referred to as a 'first fit', i.e., the programming that is measured when the hearing aid is first programmed before fitting it into the patient's ear. The 'first fit' is a starting point, not the final programming point.
The dotted green 'M' curve and the solid green curve do not match up on the 'first fit'; they should match if the patient will be able to regain full audibility of sound. An individual fit with a hearing aid like this would likely say that "sounds are louder, but still not clear".
This individual's hearing aids are not providing sufficient amplification in the high-frequencies and need to be adjusted beyond the 'first fit'.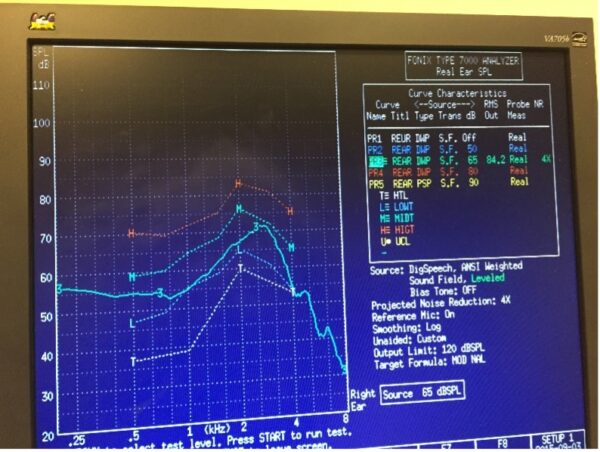 ---
In Figure 2, we see what can be accomplished through a few seconds of programming the hearing aid's signal processing and how the green curves now match more fully which indicates we have achieved the projected target gain necessary for this patient to hear average conversational loudness.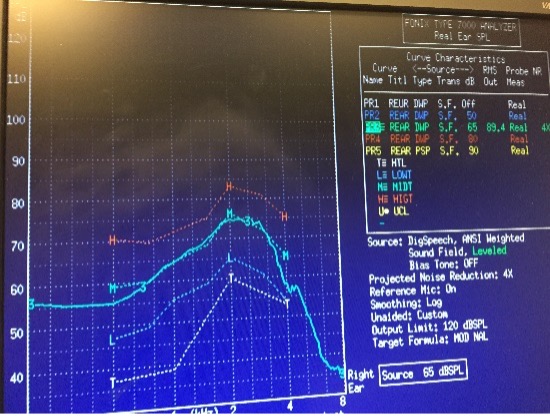 ---
In Figure 3, we simply complete the programming of the hearing aid for a soft input and loud input signal as well as checking the saturation level of the hearing aid with a very loud input signal and now the hearing aid is programmed to the patient's hearing loss requirements. This is objective evidence that the hearing aid is performing the way it should be for the individual's hearing loss and unique ear acoustics. This is the starting point for the patient to leave the office and start using the hearing aids in their everyday listening situations. After a week or so, the patient will return for further programming and fine-tuning of the prescription based on their subjective input and further real-ear testing.