Hearing Aid Information in Maryland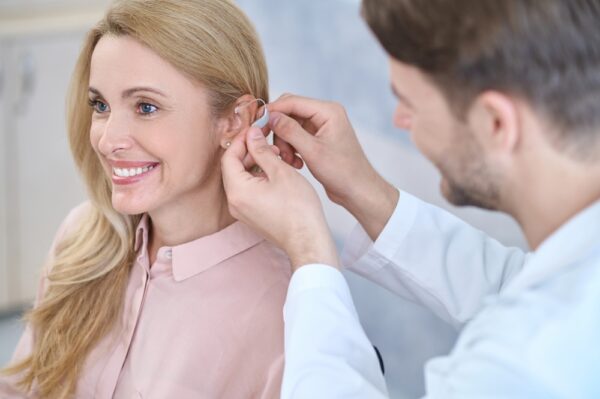 Hearing Aid FAQ's in Potomac
Has your audiologist told you it's time for hearing aids? If so, you undoubtedly have a lot of questions and concerns.
This guide to hearing aid 101 addresses the most commonly asked questions and helps you understand the process of getting your new hearing aid.
How Is Hearing Loss Diagnosed?
An experienced audiologist will conduct a comprehensive physical exam and screening. During the physical exam, your audiologist will check for possible causes, such as a build-up of earwax or inflammation due to an infection. They also check for structural problems that might be causing your hearing loss.
There are various diagnostic tests that your healthcare professional may use to determine the severity of your hearing loss. During a whisper test, you will be asked to cover one ear to see how well you hear words spoken at a low volume. Tuning forks (two-pronged metal instruments) can reveal the location of ear damage. An audiometer test is common and requires you to wear headphones to hear sound directed into each ear.
How Do I Prepare for My Audiology Exam?
While preparing isn't absolutely necessary, it can certainly help you make the most of your audiology appointment. Because your audiologist will want details about your symptoms, it's a good idea to write them down so you can be thorough with your descriptions.
You might also find it helpful to jot down key medical information such as chronic medical conditions, last exam date, results of tests, current medications, and past surgical dates.
Do you regularly find yourself in situations where you are exposed to a high level of noise? Let your audiologist know.
If you have any questions for your audiologist, be sure to write those down too. Taking a family member or friend is a good idea if it is allowed. They can help you remember details you might forget.
Why Would You Need a Hearing Aid?
A hearing aid is recommended for anyone who experiences hearing loss due to damage to the small sensory cells or hair cells in your ear. If you have been diagnosed with damage to the inside of your ear that is causing hearing loss, a hearing aid will make hearing and speech comprehension easier for you.
How Does a Hearing Aid Work?
Essentially, a hearing aid magnifies sound vibrations that enter your ear. The more severe the hearing loss, the greater the hearing aid amplification is needed. There are three main parts to a hearing aid and they each serve a different yet equally important function:
Microphone: Receives sound
Amplifier: Receives soundwaves and electrical signals while increasing the power of the signals
Speaker: Allows you to hear
What Type of Hearing Aid Should I Wear?
There are multiple hearing aid options, and the type you wear depends on the severity of your hearing loss, the size / shape of your ear, manual dexterity, and personal preferences. Your audiologist will recommend the best hearing aid for you.
Currently, there are multiple types of hearing aid options:
In-the-ear, or ITE: These devices are made to fill either your entire ear or a portion of your ear. They work best for those with moderate to severe hearing loss and are the best type for anyone with dexterity concerns.
Behind-the-ear, or BTE: Suitable for patients with mild to profound hearing loss, a behind-the-ear hearing aid is custom-made to fit your ear and is also the best choice for anyone with dexterity issues.
Receiver-in-the-ear, or RITE: This type of hearing aid sits behind your ear with a thin wire that extends to the inside of your ear. It offers a more natural sound and requires manual dexterity. They're appropriate for anyone with mild to severe hearing loss.
In-the-canal, or ITC: Less visible because of the fit inside your ear canal, an ITC hearing aid is small and not usually recommended for patients who aren't able to safely handle small parts. They're reserved for people with severe to profound hearing loss.
CROS/BiCROS: Suitable for anyone with minimal hearing loss in only one ear and little to no hearing in the other, this is a device with two parts. The hearing aid is worn in the "good" ear while a microphone is worn in the "bad" ear.
Does a Hearing Aid Require Maintenance?
Yes, it does. To keep your device(s) in good working order, regular hearing aid maintenance is needed.
As a daily maintenance to-do list, you should keep your hearing aid away from humidity, store them properly, and turn them off when you're not using them.
Hearing aids are small and have tiny working parts. Regular visits to your audiologist will keep them working as they should. Typically, an annual check should be scheduled to take a look at the components of your hearing aid, update program settings if needed, and replace the tools and ear molds. If you need fitting adjustments, your audiologist will help with that as well.
Where Should I Go to Learn More About Hearing Aid 101 in Potomac?
At Potomac Audiology, you're guaranteed doctorate-level expertise and outstanding care. If you are experiencing hearing loss and suspect you need a hearing aid, we encourage you to contact us at 240-599-3641 to book your appointment today.
Our team is dedicated to making you feel comfortable, providing educational resources, and helping you to understand all testing results so you can make an informed decision about your hearing aid. We offer services that are individualized for adults and children and look forward to meeting you!