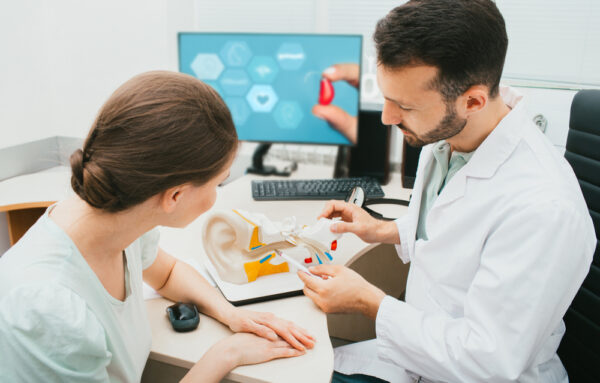 Your Search for the Best Audiologist in Bethesda, Maryland Is Over With This Comprehensive Guide
Having to choose a qualified audiologist can feel overwhelming when you suspect you have a hearing disorder. There are so many decisions to make!
But, relax. Here's the scoop on how to find the best audiologist in Bethesda, Maryland for hearing services, complete with tips from the experts!
What Does an Audiologist Do?
Before choosing an audiologist for hearing loss or other concerns, you should really know what they do. An audiologist is a healthcare professional who can identify hearing loss and assess and manage hearing disorders. They also assess balance issues and neural systems, and they typically treat patients of all ages from newborns to adults.
Audiologists are able to select and dispense hearing aids and other listening devices. They can also educate patients on hearing loss prevention. Many audiologists are involved in research for hearing loss prevention, identification and management, balance system dysfunction, and tinnitus.
Check With Your Insurance Provider to Find the Best Audiologist Under Your Policy
Does your health insurance cover diagnostic hearing evaluations? If so, ask them for a list of preferred providers that are highly rated. While speaking with your insurance company, find out if you have full or partial coverage, and ask about your co-pay. Find out whether they will cover all or part of the cost of hearing aids. You should also ask if you need a referral from your primary care provider (PCP) to see an audiologist.
Ask for Recommendations
Do you know someone who has seen an audiologist? If so, ask them about their experience and who they would recommend. If you need a referral, your PCP should be able to recommend a great audiologist in your area that's covered by your insurance.
Choose an Audiologist With Experience
You don't want to trust your hearing with just anybody! Finding the best audiologist in Bethesda, Maryland really comes down to qualifications and experience. How long has the provider been practicing? When and where did they complete their education and training?
In 2012, it became a requirement that all audiologists hold a doctorate degree. Before that, only a master's degree was required. Anyone practicing audiology before 2012 was "grandfathered" into legal practice. This means you need to be aware that not all of them come with the title doctor but the university from which they received their degree must be accredited.
Don't assume what you see on paper is what you get. Aside from the information above, make sure the audiologist has a valid state license. Always verify credentials!
Read Reviews
Most audiologists have patient testimonials right on their websites. You should also look at the comments on their social media pages. Third-party sites with verified patient reviews, such as HealthGrades, are great sources of information too.
Consider Flexibility and Convenience
Some audiologists see patients under very strict operating hours. Others offer flexibility. If this matters to you, ask about after-hours care and whether telehealth is an option. If you don't want to make a long car trip, make sure the audiologist you choose is easily accessible.
Schedule Your Audiology Consultation
The best way to get a feel for someone is to meet them. Audiologist consultations allow you the opportunity to do that. Pay attention to your instincts. If you're not comfortable, then you should continue looking.
Your audiologist consultation serves several purposes. You will discuss your medical history as well as your family's, provide information about medications and supplements you are taking, and explain the symptoms you are experiencing. You will also have a visual exam of your ears.
It is possible your audiologist will want to perform tests to see how you respond to various sounds. This can include pure tone audiometry, bone conduction, or speech-reception threshold and word recognition. These tests are needed in order to provide you with the full picture of your hearing loss and to determine whether you need hearing aids.
You should go to your audiologist consultation prepared. This meeting is a great opportunity for you to ask questions. Not sure what to ask? This list will get you started, so you can take it with you to your appointment. You can even add to it if you have additional questions or concerns.
How do you diagnose hearing loss?
How will I find out the results of my hearing test?
How often should I have my hearing tested?
What kind of hearing loss do I have?
Is my hearing loss permanent?
What is the cause of my hearing loss?
Will my hearing loss stay the same, or can it get worse?
Do I need hearing aids?
What are the best hearing aids for me?
How much will my hearing aids cost?
What insurance do you accept?
How long will my hearing aids last?
How often will you check and / or adjust my hearing aids?
Finding the Best Audiologist in Bethesda, Maryland Is So Easy – Just Make THIS Call Today!
Call Potomac Audiology today at 240-599-3641! Don't delay having your hearing tested now that you know how to find the provider you need.
Hearing loss can greatly impact your quality of life, and we want to help. Our hearing experts offer state-of-the-art diagnostic testing and top-notch, personalized patient care.
We feel one of the best ways to help you and your family is to offer  valuable patient resources on all matters hearing-related including but not limited to hearing loss, hearing aids, and diseases of the ear.